Heating Element
EREMA - Efficient Silicon Carbide (SiC) Heating Elements
EREMA electric heating elements, composed of recrystalized high-purity silicon carbide, have earned a reputation as being the Worlds leading heating elements since their first commercialization in Japan.
With the experience and advanced technologies, products are continually developed to meet the challenge of new applications and industries. FARCON Singapore, being the authorized distributor, is able to support our customers by supplying the most appropriate heating element for any given application.
FEATURES
EREMA withstands as high as 1600ºC (surface temperature).
EREMA generates high heat output per unit surface area, approximately 5-10 times the output of Nichrome wire.
EREMA is more energy efficient.
EREMA has high strength and excellent shock resistance.
EREMA is chemically very stable.
Heat source is free of noise and air pollution.
Various coating products are available for protection against water vapor and harmful gas atmosphere.
TYPES 
Type E and F
This type is manufactured by exploiting our excellent manufacturing technologies and the fruits of years of research; consisting of dense and hard crystal. Various coatings can be applied to improve resistance to oxidation or corrosion depending on the use.

Type SG
This type has a spiral groove engraved on the heating zone, withstands higher temperatures than type E and F, and has high corrosion resistance, thus shows excellent performance in severe service conditions.

Type SGR
This type also has a spiral groove engraved on the heating zones similar to type SG. This has the cold end only at one end, which is its distinguishing feature. As the connecting terminals are at the one side, it is very convenient to use and moreover an energy saving furnace can be built by using this. Use of the types SG and SGR is recommended for the applications where service conditions are severer or where the temperature in the furnace chamber exceeds 1400

Type U
This type is "U"-shaped, consisting of a combination of one each of the EREMA types E and F respectively. It is a single-phase heating element with both cold ends in one direction, facilitating increased furnace design flexibility, because connection terminals can be centered on one side. In addition, a furnace with an energy saving structure can be built because the number of heating element holes on the furnace can be reduced compared with the E or F types.

Type W
This is the heating element to be used with a three phase power supply combining 3 units of the heating elements to make a W shape. The principal application is in manufacturing furnaces for float glass.

Type M
The cold end of a bar shape heating element is normally located on the extension of the heating element, but the cold end of type M is designed to be vertical in order to support uses such as the installation of electric equipment and the requests to change the cold end structure. The distance between the heating element and the heating object can be adjusted easily. The same materials as in types E and F are used.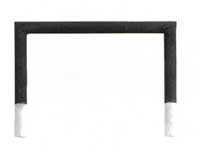 ACCESSORIES
Terminal clamps and terminal straps are supplied with EREMA heating elements. Loop the strap uniformly around the EREMA terminal in the circumferential direction, and fasten it evenly using the clamp. For higher temperatures or atmosphere furnaces, heat-proof terminal clamps and straps should be applied because those terminals are exposed to high heat due to the structure of the furnaces.
SL-type strap

SH-type strap

HV-type strap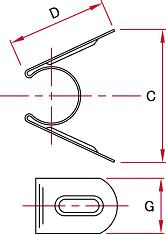 Heat Resisting clamping terminal